The most important thing is determination, says Ondrej Synek
He has started the World Cup very successfully this year, winning in the first round of the World Cup in Belgrade. Ondřej Synek – five times World Rowing Champion and three times Olympic medallist – and an idol for this generation of young rowers. We met for this interview at the Měřín training centre where Ondra usually prepares for the highpoints of the season – the final of the World Cup in Luzern and the World Rowing Championships, taking place this year in Plovdiv.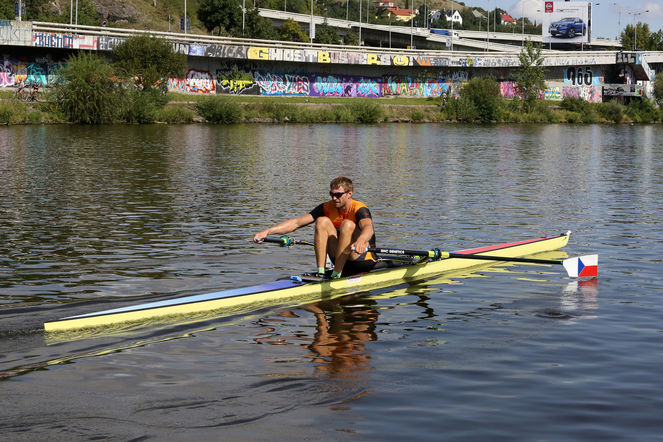 As we approach the World Rowing Junior Championships, lots of people are talking about the difficulties of young rowers making the transition from the junior category to seniors. How difficult was this stage in your career?
We didn´t have the transitional category, U23, that the current juniors have now. Back in 1999 and 2000 we jumped straight from Junior to Senior Elite and we achieved 11th place at the World Rowing Championships in the quadruple sculls. It would be regarded as a good result now. Of course, the training sessions increased at senior level. I certainly had to make sacrifices for training. My transition from Juniors to Seniors was made easier by the fact I was still at school. I didn´t jump into two training sessions every day. All the same, even though school gave me some time off for training, it was really difficult. But I always knew what I wanted to achieve.

You gained the title of the World Rowing Junior Indoor Champion on the ergo. Was it your biggest success in junior category?
It was an unofficial World Rowing Indoor Championships in Boston. I finished third in the first year and the following year I won the race. But my biggest success at the junior level was bronze medal at the World Junior Championships 2000 in Zagreb, where I raced in the double sculls with Jakub Hanák. I was looking for much bigger success so I moved quickly to the senior category (he is smiling). My time as a junior prepared me very well. I think young athletes should think about this age category as good preparation for what comes later.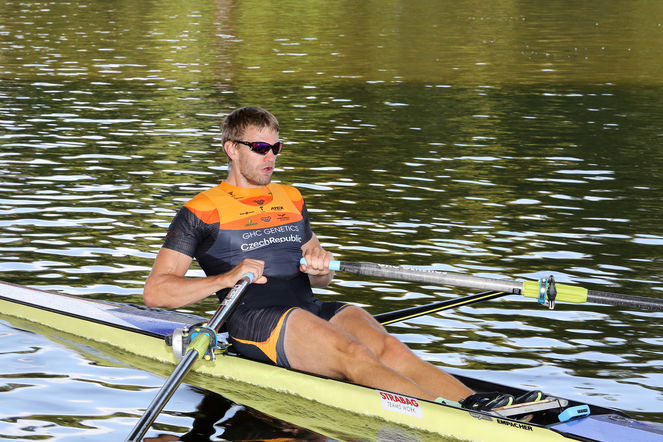 How long had you been rowing before winning a medal at the Junior World Championships?
Five years. I began rowing in Brandýs nad Labem where I just was "playing around". I moved to Dukla Praha in autumn 1999 and started straight away with my current coach, Milan Doleček. And we won the medal next summer. It's true to say that I really started to row that autumn at Dukla. I didn´t participate at the World Junior Champs in my first year as a junior.

How were you developing as a rower back then?
I started rowing in the double sculls with Milan Doleček jr in 2002. I had already defeated Václav Chalupa by that time. We finished fifth at the World Championships with Milan and we won a medal in Milano the following year – the bronze. We managed to win the World Cup races both years. At the Olympic Games in Athens we finished fifth again and afterwards I moved to the single scull.

With Václav Chalupa you were competing to be Number One in the single scull. How beneficial was this highly competitive period for your improvement in performance?
It was hugely motivating at the time I made the transition to seniors. It had nothing to do with juniors but we were a big group of balanced and fast competitors. Different rowers fought their way to the top. We were all very motivated, determined and competitive with each other.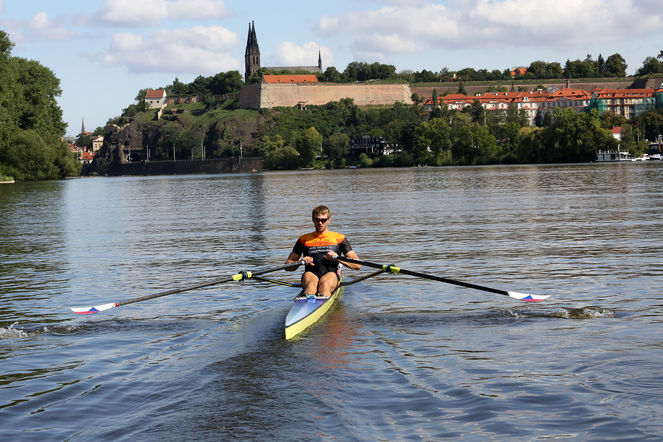 The potential double sculls with Václav Chalupa could have been very fast, couldn´t it?
It was very complicated at that time because Václav wanted to row in the single sculls until the Olympics. When I defeated him, I wanted to row in the double sculls with him but he didn´t want to do it. Then I wanted to race for the nomination to the single scull but the officials of the Czech Rowing Association did not permit that. It was difficult but it´s a long time ago.

You are finishing your training as a coach. How far have you got with your studies?
I still need to take two preliminary exams and then the final exams.

Are you planning a career as a coach?
We will see how things work out. I want to race for the next two years. I am thinking more and more about the future but really I don´t know right now which direction I will go in when I finish my rowing career. Coaching is one of the possibilities which will allow me to stay in rowing.

I am sorry to be a little bit provocative – Račice 2022….
I will be happy if I am competitive until the Olympics in Tokyo (he is smiling). Everything depends on my health but also on my state of mind and the desire to continue training.

What will you say to juniors who are waiting for the World Junior Championships on home water in Račice this year, including the many who will make the transition to the U23 category in the autumn?
We have some good juniors but our generation was at different level 20 years ago. We were fighting it out in every training session. Ten of us got under 6:20 on the ergo. Today someone does it and he thinks he is a big star immediately. I think the most important factors are determination, to focus on preparation, the desire to go for it and a sense of purpose.
Text: Manfred Strnad
Photo: Pavel Myška