The participants of the 2022 World Rowing Championships will have unique fans waiting for them in Račice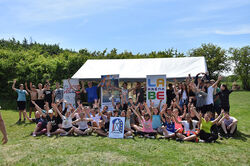 The Czech Rowing Federation together with the Labe Arena Račice, where the World Rowing Championships are returning after 29 years, have created an unique project for this year's championships. This project will connect each participating country with ambassadors selected from children and students of Czech schools.
The project is aptly named #ADOPTROWING and will give each rowing federation competing at the World Championships a home-grown fan base. Together they will be seen at the opening ceremony of the World Championships on 17 September, where representatives of the Czech schools will carry the flag of the rowing federation they are associated with as part of the #ADOPTROWING project.
Ambassadors from schools have several opportunities to connect with and support their rowing champions. They can connect with the rowing federation and possibly with specific crews via email or Facebook and communicate directly there. They can engage in creative activities such as making fan banners or completing various challenges that they send to each other. From 17 September, an exhibition of the artworks created as part of this project will be held in the Labe Arena Račice.
Representatives of the Ambassadors (children) can carry the flag of the "adopted" country during the openining ceremony. On the same day, the Labe arena will come alive with a rowing happening on Rowing Machines relay race. Not only children will be racing, but also representatives of the Integrated Rescue System.
And the champions of the participating countries? They should feel exceptionally well this year in Račice thanks to the fans.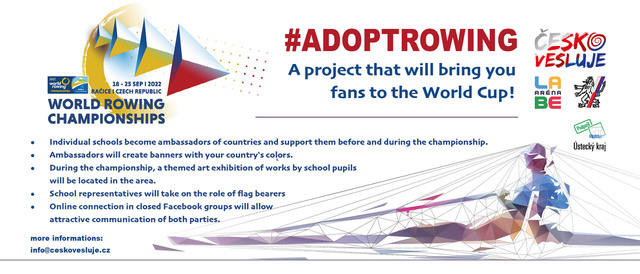 Video greetings:
https://www.youtube.com/playlist?list=PLTuQSWvqY-7as92fRR25dwwebGsfqlniQ